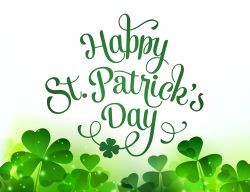 St. Patrick's Day is just around the corner, and it's time to get your shamrock on! This jolly holiday is all about celebrating Irish culture and heritage with lots of green, good cheer, and of course, a pint or two of Guinness.
Here are some fun and quirky ways to celebrate St. Patrick's Day:
Go Green: Break out your green clothes, accessories, and even food! From green smoothies to green beer, everything should be a shade of emerald on this day.
Get Festive: Decorate your home with shamrocks, leprechauns, and pots of gold. Don't forget to play some lively Irish music to set the mood!
Parade Around: Many cities host St. Patrick's Day parades with colorful floats, marching bands, and of course, lots of green. Join in the fun and show your Irish spirit!
Sip on Some Guinness: Raise a pint and toast to good luck and happiness!
Have a Jolly Time: Whether you're dancing a jig, singing Irish ballads, or just enjoying good company, St. Patrick's Day is all about having a good time.
So gather your friends and family and celebrate in style! So there you have it! A cheeky guide to celebrating St. Patrick's Day with all the green, good cheer, and Guinness you can handle. Sláinte!