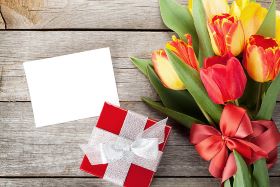 March is the perfect month to show your appreciation with a thoughtful gift. But don't just settle for any old present, let's get quirky! Here are some fun ideas to get you started:
Pot a Smile: Gift a potted plant, like tulips or daffodils, to brighten up their workspace. These cheerful blooms are sure to put a smile on their face.
Foodie Frenzy: Fill a basket with seasonal treats, like fresh fruits or baked goods. This gift is not only delicious but also healthy!
Personalized Perfection: Give a customized gift, like a monogrammed journal or desk accessory. Your client will love the personal touch.
Write from the Heart: Don't forget to include a thoughtful note or card to express your gratitude. A little note goes a long way.
So there you have it, folks! A fun guide to showing your client love this March. Get creative and spring into client appreciation with these thoughtful gifts!