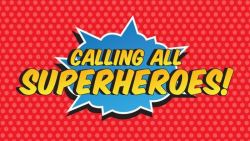 Superhero: is it a vision of a tremendously strong, mysteriously fictitious character who saves the world with awe-inspiring superpowers? Or is your idea of a superhero filled with images of those who make your everyday life easier?
Our parents - still giving encouraging words of wisdom to this day. Medical personnel - consistently putting their well-being on the backburner to ensure that our health thrives. Team and support staff - those who make sure that our businesses run smoothly everyday are superheroes too.
Ask yourself, "Do I make sure that my superheroes feel appreciated?"
If not, remember that a small bit of recognition goes a long way. Tomorrow is National Superhero Day, so be sure to take a minute to celebrate your superheroes: friends, family, team, referral partners, and colleagues. Celebrate their greatness by saying thanks with our Limitless Gift Box!