Chef Lucia Featured on Fox News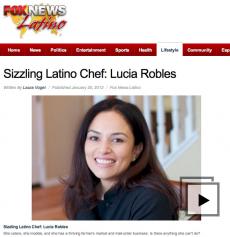 Fox News Latino interviews Sizzling Latino Chef Lucia!
Born and raised in San Francisco by a Mexican mother and Lebanese father, chef Lucia Robles is a first-generation-American success story.  The graduate of the California School of Culinary Arts–Le Cordon Bleu Program in Pasadena is incredibly hardworking and her business ventures are truly diverse. Robles, who is in her early 30s, also happens to be model-gorgeous (she was recently featured in a Diet Coke commercial with Tom Colicchio, star of Top Chef)
Robles's catering and food business is based in Long Beach, California, and it represents the culmination of a lifelong dream. She also had to work nonstop to prove herself in a predominantly male industry. She now caters many Hollywood fetes and private dinners for the well-heeled in the L.A. area. Robles also conducts cooking demos and classes, runs a very popular booth at the Pasadena Farmer's Market, and has a thriving mail-order gift-box business that provides hand-made pastries, custom-roasted coffee, and her own tea blends to thousands of happy recipients.
Food has always played a huge role in Robles's life. "As soon as I was old enough to stand up on a chair [at the age of two] and stir something on the stove, I was cooking. My mom wanted me to feel included, and my dad always wanted to try out new and creative things in the kitchen," said Robles. "Great food has always been important to us. It has a way of bringing people together."
Q: How did having parents from two very different parts of the world influence your palate?
"My Mexican and Lebanese heritages have been an integral part of my life growing up, but in true American-melting-pot fashion, my mother always made sure our palates were more like world travelers getting exposed to everything from Mexican chocolate to French pastries and Mediterranean dishes. So even though my first language growing up was Spanish, I made a determined effort to master English as a kid and did the same thing with my cooking."
Q: How does it feel to be a woman in the food business? 
"I went to culinary school, and had a great time with it, and assumed when I got out I would be a rock-star pastry chef. But when I got out, it wasn't everything it was cracked up to be. There is still a glass ceiling with women in this industry. They just prefer men in professional kitchens. It's really not about race, it's more a gender division."
Q: How have these challenges affected your path? 
"Being a chef gave me a lot more career freedom than I expected. I could have gone right in working as a sous chef and then executive chef at a restaurant, but I decided to take my own future in my own hands and went the catering route. It's been a wonderful experience being your own boss—a little nerve-wracking, but really rewarding. Catering has also led me to being a serial entrepreneur when my corporate clients began asking for gifts and I dove right into a luxury gift-box business!"
Q: Which modern-day chefs inspire you? 
"I really have admired some of the very talented chefs doing great things in the Latin food space. Chefs like Rick Bayless, Mary Sue Milliken and Susan Feniger have really shown what Latin flavors can do alongside classic French techniques."
Q: What do you think of traditional European cuisine? 
"Growing up, my parents and I would always watch Julia Child's show The French Chef together. We would try her recipes. You could say that even though Latin blood flows through my veins, French taste buds must be stuck to my tongue, because I really fell in love with French cuisine. I mean how can anyone not love butter except a cardiologist? I've found that Europeans are not afraid to play around with their food and take great pride in it. In America, we generally look at food as fuel—you should take care of yourself and eat well, but you should also enjoy what you're eating."
Q: What's your philosophy on ingredient sourcing? 
"I think as chef it's important to stay close to your food roots so I also started a farmer's market business, not only where I could sell my own chef-inspired products, but also stay close to food trends from organic and sustainable family farmers. You really get to know about food when you spend your time with the people who actually grow it."
Q: What's your favorite thing about cooking for people? 
"The creativity of it and just having them love it. Watching them enjoy it just makes everything worthwhile."
Q: Ultimately, how do feel like your Latino heritage has influenced your cooking? 
"I guess you really never leave home though or your roots because I found myself going back to two passions of mine in cooking: chocolate and Latin flavors, which combined for a Mexican Chocolate Bread Pudding recipe that I guard like the crown jewels. It's one of those secret little family recipes for a chef we never like to give out. But I think it really shows off where I came from and where I am now as a chef when you combine classic Mexican spices to the richness and lushness of French dessert making. If Julia Child ever grew up in Sonora, she'd be my hero!"
Laura Vogel is a Los Angeles-based writer and editor whose work has appeared on such sites as AOL, MTV Next Movie.com, and Real Simple.com; she has also contributed to The Washington Post, The New York Post, In Style and Martha Stewart Weddings.
« Back