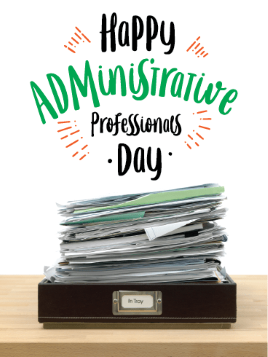 Administrative professionals are the superheroes of any office. They keep everything running smoothly behind the scenes, and often go above and beyond their job descriptions to ensure that their team and colleagues are happy and well-supported.
So why not show them a little love and gratitude with a thoughtful and fun gift? One great option is a personalized desk name plate. This not only adds a touch of personalization to their workspace, but also shows that you value their hard work and want to recognize them for it.
Another gift idea is coffee. Let's face it, most administrative professionals are constantly on the go, the perfect way to help keep that pep in their step is a gift from our Coffeehouse series.
A desk organizer is another great option to help them stay organized and on top of their workload.
Keep the gratitude going with an evergreen gift from our Gratitude series.
How about having some fun in the office, with some games to help them unwind, de-stress and recharge during their breaks. From mini basketball hoops to desk-sized foosball tables, there are plenty of options to choose from that can help inject a little bit of fun into their workday.
So go ahead and show your administrative professional some love and gratitude tomorrow for Administrative Professionals Day with a thoughtful and fun gift. They deserve it!