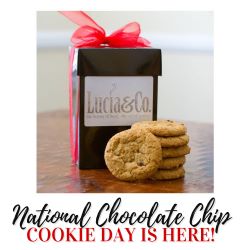 Resting in the error of a blunder has never been helpful to anyone. Feeling down lately about a mistake you've made with your business? How about turning it into a masterpiece? After all, many of the delectable treasures we enjoy today exist only through accidental discovery.
For example, we are pretty sure that when Ruth Graves Wakefield ran out of baker's chocolate and chose her semi-sweet chocolate replacement that she didn't know she was creating a dessert that would forever go down in history. In 1997, these special little treasures even became Massachusetts' official state cookie!
As you celebrate National Chocolate Chip Cookie Day today, we encourage you to remember that if you do make a mistake, try your best to correct it and learn from the blunder. If you do make a business error, consider smoothing things over with a gift like our Chocolate Lover's Gift Box.