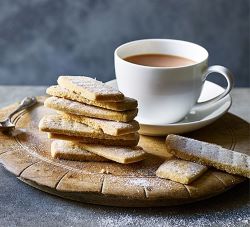 Tomorrow, we celebrate the deliciousness of shortbread - a crumbly, sweet Scottish treat that we simply cannot get enough of! Since Mary, Queen of Scots popularized this once expensive delicacy sometime during the 16th century, today we continue to enjoy these scrumptious cookies for dessert or during teatime with a smile.
To celebrate National Shortbread Day, we say share the fun with friends, associates, and family. Have a few companions over and make your own irresistibly warm shortbread cookies from scratch. Support a small business and visit a local bakery. Purchase a few of these cookies and have your own small teatime event from the comfort of your home. 
Turn the celebration of these incredible treats into an opportunity for investing in your business. After all, your noteworthy clients deserve to feel appreciated. Even after today, there is never a wrong time to 'say thanks.' Our Tea of the Month Club serves as the perfect accompaniment to any yummy experience.