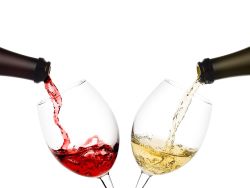 A glass of wine, a crackling fire—really, what could be better for a cold winter evening? Something that warms you from the inside is a given for the colder months, but there's some disagreement on just what wines are best drunk in winter. Should you reach for the bold, rich red or a cool, oaky white?
Why You Should Drink Red: There's no doubt that red wine is a staple in winter: high alcohol content, invigorating tannins, and a full body, all of which serve to keep us nice and toasty when the temperatures plummet. Deeper wines like Syrah, Zinfandel, and Cabernet are nice and hearty, something we gravitate towards in the winter. The texture makes a difference, too: when it's chilly out, there's less inclination to grab a light, crisp, refreshing wine. Wine with layers and texture matches the winter mood, when we slow down and bundle under our own layers.
Why You Should Drink White: While it may seem counterintuitive, white wine can actually be a fantastic winter drink. More acidic wines often pair well with rich winter foods like stews and slow-cooked chicken or pork. A crisp wine can really brighten up a hearty meal, but the best white wines to drink in winter are full-bodied and oaky, like Chardonnay. If the idea of drinking a chilled glass of wine on a chilly day sounds too cold, remember that white wine doesn't need to be drunk at refrigerator temperature! The ideal temp for whites is actually a bit higher than you think—between 49 and 55 degrees.
The Verdict: The wine you choose this winter should be the wine you prefer to drink all year round, but whether you go for red or white, pick one with a fuller body and a richer texture.