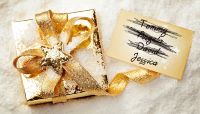 Regifting is one of those things we all do and do quietly. We do it because we don't really like the gift. Maybe you've regifted because you were in need of a gift, found yourself in a crunch for time, slapped a new name on your gift and solved your problem.
But let's be honest, if you really, really loved your gift, never mind liking it, you'd never have done that. You'd run out, buy a gift card and show up late. You might even show up to the party empty handed with an IOU, if you really loved your gift in the first place and never have given it away.
If your gift was handmade by your kid, would you regift it? No, you wouldn't because of the thoughtfulness behind it.
So if you're clear on why you would or wouldn't regift the gifts people in your life give you, why do you think your business gifts are any different? Why do you think your clients are any different? It's actually probably even more important here in this arena as gifts really should be considered and treated as an investment.
Most everyone is polite and will always say thank you with a smile, but don't be fooled, that doesn't mean they loved it. That just means they're being polite. Your gift, whatever it may be, is really an investment back into your business, your client relationships and team building. So it's important to choose carefully and thoughtfully. And when I say thoughtfully, maybe the better word to use is strategically. It's important to find a gift that will represent you well, that's in alignment with you and your brand.
Regifting your gift is not a way of getting your name out there. If your clients are passing along your gifts, chances are the next person on the receiving end will either regift it again or it'll end up in the Goodwill donation pile. If you think regifting is a way of getting your name out there, then ask yourself, did you end up with a sale or new client from it? If you didn't, your investment just turned into an expense and your marketing dollars were wasted.
How do you avoid that? If it's a promotional item, spend the time and invest the money in a GREAT quality product. Stop cutting corners. Great quality product will always get you noticed and even though it's branded, people will appreciate the quality and will be more likely to keep it. If you're giving a promotional item as a gift, be very intentional with the occasion. Don't give it away for personal reasons, like a birthday. If you're not gifting a promotional item, be sure to send a well curated gift that will accurately convey your sentiment and thoughtfulness. Hint: when doing this its best to work with an expert who will take the time to understand your business, your needs and goals and guide you to a great gift where your investment will pay off in spades. This could be a gift company that has a corporate/business department, and it could also be a business gift company that will be more intuitive with you.
When gifting clients, be sure that your choice represents you and your brand in the best light. A classic choice such as our Petit Dejeuner Gift Box is an amazing place to start.